Meet Meta Special Aerospace (MSA), a total solution provider for sensitive overseas missions in support of US Special Operations Forces. MSA also provides special ops training and exercise support in the United States. Their mission is to rapidly provide fused, long duration, airborne Intelligence, Surveillance, and Reconnaissance (ISR) aircraft with a highly experienced crew and state of the art technology to support the F3EAD process that helps keep our country safe.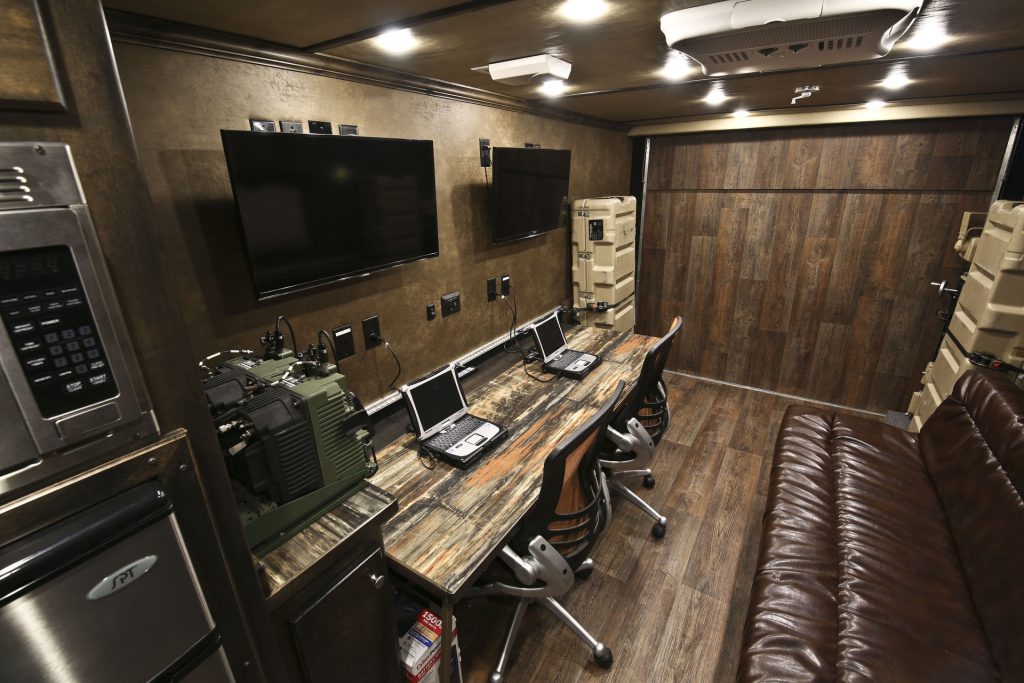 Mobile Command Trailer
MSA initially approached Outback Customs with the need to upfit their cargo trailer to serve as a mobile command unit that supported short-term remote special operations training in the United States. The trailer was outfitted with command workstations and sensitive communications equipment to assist in liaison officer training. The trailer also has living amenities including a sofa-sleeper, refrigerator, microwave, storage cabinets, and additional work spaces. The trailer was later modified by Outback Customs to include an additional bunk bed with storage below.
Mobile Command Van
So pleased by the customer service and attention to detail provided, MSA contracted Outback Customs to complete two more mobile command and training centers. The second being a Ford Transit mobile command van. Its quick and agile maneuverability coupled with the command workstation, sofa lounge, mini-fridge, collapsible bunk bed, bathroom, and roof-mounted A/C make this the perfect solution for short-term missions in compact spaces. The interior also has ample storage space with cabinets above and below the sofa lounge and a wardrobe above the mini-fridge. The captain chairs in the cab area were upholstered and double-stitched to match the interior upfit, making this the complete package.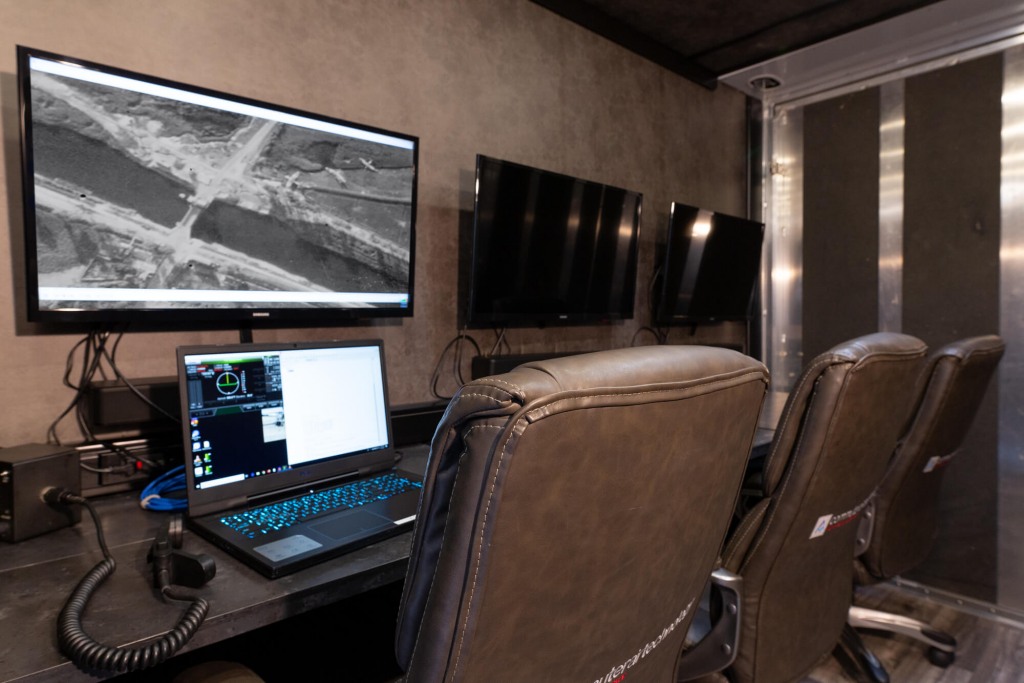 Mobile Command Center
The third project Outback completed for MSA was a mobile command trailer built for training and operational missions. The trailer was reinforced with additional structural support and stabilizing jacks to accommodate the 300 lb. remote controlled ground-to-air communications dish that sits on a heavy-duty telescoping pneumatic mast that can extend 60 feet into the air. Outback Customs fabricated a storage room to contain the dish and mast which includes a side access door, stairs for maintenance and setup, and a large roof hatch door for operational use. The trailer also includes three command workstations, two side-by-side retractable sofa-sleepers, a specialized locking server rack, and customized storage space located in the front nose of the trailer.
Both command trailers and the surveillance van play vital roles in serving the mission of Meta Special Aerospace. Outback Customs is proud to have earned the trust of this company that helps to serve and protect this great country we call home.
The team at Outback was great to work with. We learned a lot about each other from our first project. Love their service, attention to detail, and their build quality withstands our toughest mission critical environments. Our other two projects were expansions for different needs. You guys knocked it out of the park! Also, we have another project coming up for you soon. Looking forward to it!
Mobile Command Galleries
Click on the galleries below to view the interior, exterior, and features of each mobile command center.